Steps on How to Use iPayroll as an employer of Switched on Group
Contents
W
hat is Ipayroll?
Please note you will not be able to log into iPayroll until your first pay is loaded. You will receive notification by email
Ipayroll is Switched On's pay system for you to
Check Payslips
Apply for Sick Leave
Apply for Annual Leave
Check Leave balances
While working at Switched On you will be able to see your latest payslip and apply for all types of leave electronically through your employee kiosk.
It is your responsibility to keep your personal details, address, phone numbers etc up to date through the kiosk.
Logging in for the first time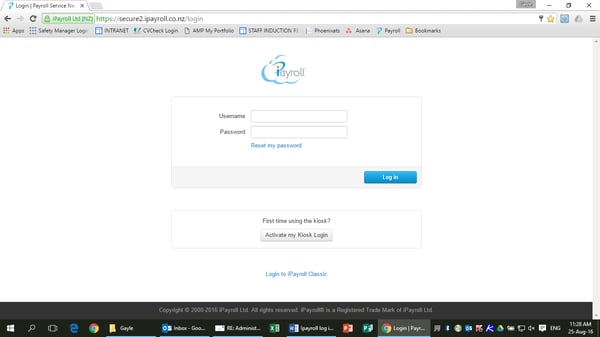 In an internet browser, copy and paste this link to open iPayroll -

https://secure2.ipayroll.co.nz/login

Enter the email you have provided to payroll (either your personal or work email address)
Push Activate my Kiosk Login
You will be directed to reset your password. Push Okay
Log out of iPayroll
Ipayroll will send you an email with instructions an a button at the bottom of the screen to activate
Use the button to re-enter Ipayroll
Enter your user name and password you created
You will need to re-enter the password as a check
Push GO on the keypad of your phone
Once in this is the screen you will see the following. SAVE THIS SITE ON THE FRONT PAGE OF YOUR PHONE. You will see three dots on the top left hand side of the screen. Touch these and got to "Add to Home Screen". Click on that and the site will be saved.
Payslips
Payslips can be found under the Payslips tab when you are logged in to Ipayroll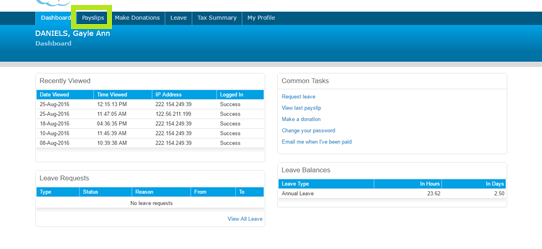 Email my Payslips
1. go to the MY Profile tab in the top menu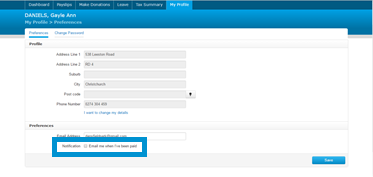 2. Check the box beside the Email me when I have been paid
3. Click Save
Requesting Leave
The payroll team use the information in the portal to pay out all types of leave.
Even if you put your leave information on your timesheet this is no longer enough to ensure you get paid. You must apply for the leave through the portal because your timesheet is no longer seen by payroll. If you forget to complete the information in the portal you may find that your leave payment is missed or delayed. Don't expect your manager to be able to enter the information for you - legally your manager does not have the authority to do this for you
As soon as you request leave through the portal, an automatic request is sent to your direct manager for authorisation. Once the decision has been made you will receive an email back.
There are several type of leave you can apply for through Ipayroll
Annual Leave,
Alternative Leave (leave accrued when working on public holidays – no longer called Time in Lieu)
Bereavement Leave
Leave without pay
If you want to request leave
From the dashboard click Request Leave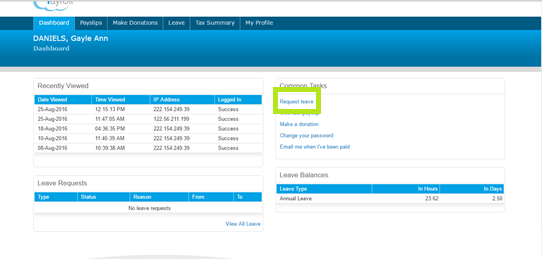 2. Fill in the leave request form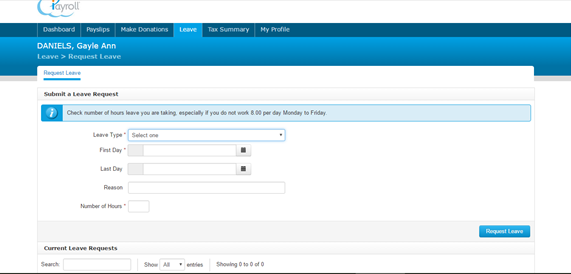 Leave Type: Annual, sick bereavement etc.
First Day: First day your leave will begin
Last Day: Last day you will be on leave
Reason: Type a reason why you are taking leave
Number of Hours: Total number of hours requested of leave
3. Click Request leave
Annual Leave
Sick Leave
If you have been away sick, it is your responsibility to enter the sick days through the portal as soon as you are able to do so. As with annual leave, your manager does not have authority to do this for you.
If you don't have any sick leave left you are able to request that your annual leave balance be transferred to cover the sick days.
To do this you apply for annual leave but in the "reason" there must be a notation No sick leave balance, please transfer.
Updating Personal Details
Using the My Profile tab, change your details so required. This is particularly helpful for payroll so that in an emergency we can get in touch with you and/or your family quickly.
Change Password:
To change your password, click on the "Change Password" tab and follow instructions. Please note that nobody keeps a note of your password – if you forget your password and can't get into your kiosk, you need to ask for a "reset of Password". You will immediately be sent an email from the kiosk giving instructions. Nobody else can do this for you.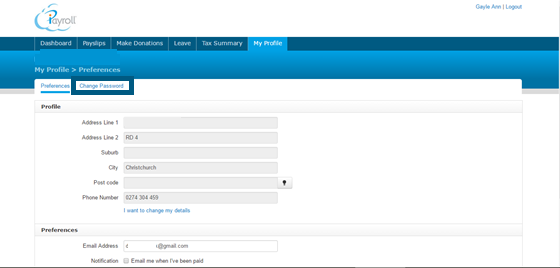 Forgot Password:
To reset your password, open the landing page for Ipayroll and click Reset My Password
Follow the instructions to reset this